I have bought both a Messor Barbarus queen ant online (there was no GAN farmers nearby) and the ant farm below: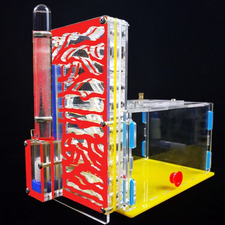 (most probably getting a new one though, as parts did fall of and parts where my ants can escape :/)
1. I've tried to do research but different websites have given me lots of different answers, I'm confused about how many workers should I wait to hatch in the test tube until i let them out into the ant farm?
2. What time of the year is the hibernation?
3. If my ants
do
nuptial flight, which apparently most likely won't happen, what should i do, I'd like to be prepared
4. Is a heat mat fine for keeping them warm, I live in the UK and it can get cold.
5. should i fill the farm outdoor area with sand or soil, if so, how much?
Thanks!