Moderator: ooper01
Has been a while since I last posted. I think I had around 14 queens last time I posted. All of my Solenopsis sp. have died, I am down to 7 queens. Currently I have 5 black Camponotus sp. they are probably pennsylvanicus. And two red Camponotus sp. probably castaneus. I never realized how slow these guys would be at getting established. I do have wonderful news with the pennsylvanicus, they all have pupa and one has a single nanitic and a ton of pupa. The test tubes are all getting low on water will probably attempt to transfer them all into fresh test tubes soon. My other test tubes have all been cleaned and sterilized, so I will probably go out tonight and see if anything is flying. I will also be posting pictures of nanitics soon, probably when I decide to transfer them into new tubes. Will update tonight on whether I caught anything or not. As soon as I have two or three colonies with nanitics the rest will be offered through GAN.
---
Congrats! Most of this years camponotus sp. seem too be getting workers now
With all the things ants can do, you wonder, who rules the planet
Keeper of:
Camponotus Pennsylvanicus
Pheidole sp.
---
I wish my other five would hurry up and get workers
. I gave one queen away to a professor at a local university, she is a biology professor who wanted a colony for her classroom.
---
Managed to get some pictures of my most successful queen to date. She has four nanitics some larvae, a few pupa and I think I saw some new eggs as well.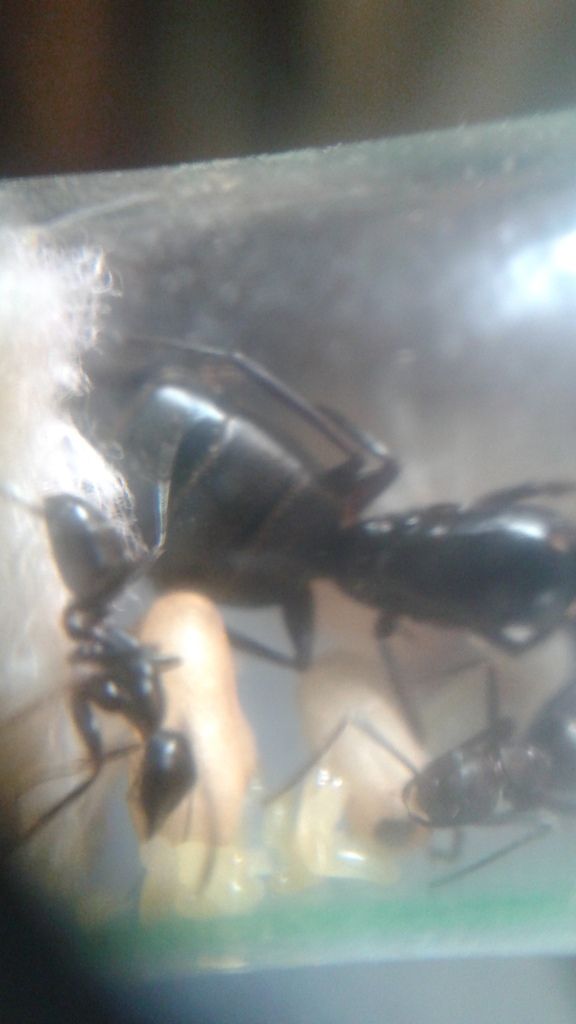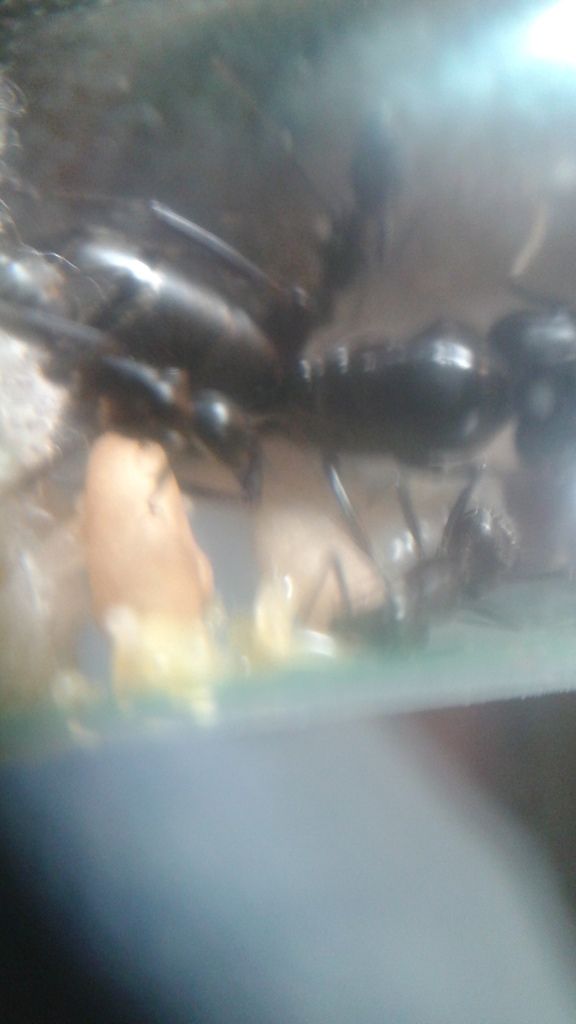 ---
---
nightxwolf88
Good job she seems to be doing well. Camponotus sure test my patience still
but what a joy seeing the first set of workers and more brood waiting.
---
Was really concerned about her for a while, she got really skinny before the nanitics came. She fattened back up quickly though once they got here.
---
One of my Camponotus castaneus queens has her first nanitic. That is the colony I have wanted ever since I saw the queen. Pictures will be coming soon. The pennsylvanicus is soon to be moved to my daughters room and this one will be my focus for a while.
---
---
Previous post should have read C. castaneus instead of C. camponotus
---
Users browsing this forum: No registered users and 5 guests